Product details of GR-T37SEBZ DS Top Mount Refrigerator 330L – Dark Silver
Model: GR-T37SEBZ DS
Top Mount Refrigerator
Capacity: 330 Litres
Color: Dark Silver
Cool Air Wrap
Hybrid Bio
Toshiba GR-T37SEBZ DS Top Mount Refrigerator 330L
| | |
| --- | --- |
| CAPACITY: | 330 Litres |
| COLOR: | Dark Silver |
| COMPRESSOR WARRANTY: | 5 Years |
| DIMENSION H X W X D (MM): | 1715 x 600 x 717 |
| CAPACITY RANGE | 301 – 400 Litres |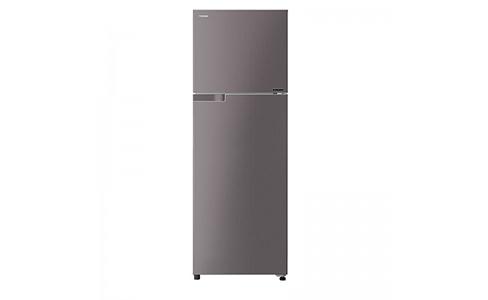 Toshiba Refrigerator GR T37SEBZ DS is available at all the showrooms of Best Electronics in Bangladesh. It can be a perfect choice for you and your family. This wonderfully designed refrigerator of 330 litres capacity is fully equipped with various healthy features to help store your food without any health hazards. Toshiba Refrigerator GR T37SEBZ DS beautify your kitchen and meet your daily storage needs.
Dual Cooling Zone
Understanding your needs to have drinks chilled fast, Toshiba has created a special fast-cooling zone for drinks and also suitable for storing other items like meat and fish. Storage capacity: 5 bottles of 1.5L bottle, 19 bottles of 500ML bottle, 38 cans of 350ML can, 63 packets of 250ML packet.
Hybrid Bio Deodorizer
When cool air passes through the 2 Biocatalysts in the Hybrid Bio, odor molecules like sulfur, nitrogen and aldehyde produced from food are filtered and disintegrated. Silver (Ag), a natural agent found in Hybrid Bio also helps to restrain bacteria-growth.
Flexible Door Pockets
Door Pockets position are changeable for flexibility and convenience. You can change the position according to your needs.
Freezer Deodorizer
With Toshiba's new freezer deodorizer, your freezer compartment will be kept fresh with less odor from raw meat and fish.
Specifications of GR-T37SEBZ DS Top Mount Refrigerator 330L – Dark Silver
Brand

Toshiba

SKU

TO116HL0MWF60NAFAMZ-385382

Model

GR-T37SEBZ DS

Warranty Policy EN

2 Years Service Warranty
What's in the box
GR-T37SEBZ DS Top Mount Refrigerator 330L – Dark Silver